Appreciate The Beauty of Sam With The Best Desert Camp In Jaisalmer
The dunes of Sam have to be in the core of Jaisalmer. One can not experience the true glory of Jaisalmer without appreciating the high dunes of Sam. And if you are someone who is planning to spend your vacation out here in Jaisalmer, we totally recommend you to experience camping in the dunes of Sam at least once.
The Desert Camp In Sam Sand Dunes cover an area of around a 3 to 5 KM of radius and are one of the best deserts to visit in Jaisalmer. What makes it extra special? The mesmerizing sunset and sunrise from the dunes of Sam, the cold sand at night, the high dunes, the exciting camel safari, and what not?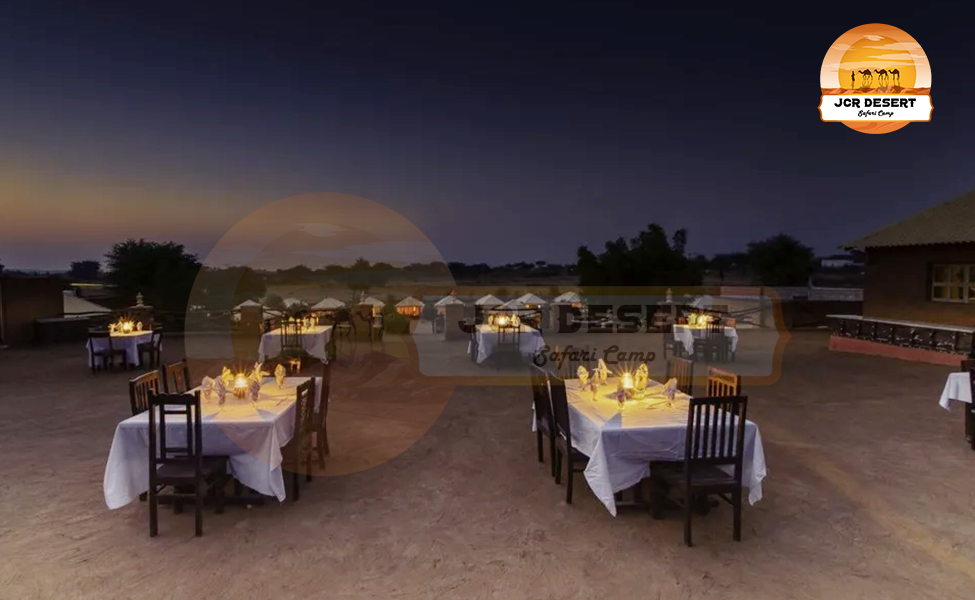 The experience of Jaisalmer's beauty becomes extra satisfying when you have an exotic luxury desert camp in Sam Sand Dunes for your stay. And that's exactly what you get with JCR Desert Safari Camp!
JCR Desert Safari Camp is the best desert camp in Jaisalmer. Every year, we host more than a thousand guests and give them the experience of a lifetime. JCR is renowned around the Jaisalmer desert for providing exotic luxury camps during the vacation season.
JCR Desert camp in Jaisalmer: Main Features
JCR Desert Camps In Jaisalmer are the leading providers of travel packages that include luxury desert camps in Sam Sand Dunes Jaisalmer. The quality and reliability of our services are evident through our customer reviews and testimonials, which you can find on our website.
Just visualizing the experience of these Jaisalmer desert camps is enough to tempt one to plan a vacation to this city.
Imagine an evening in the gracious open desert, a campfire under the starry night sky. Isn't that a beautiful dining experience? Sitting with your loved one under the open sky while you enjoy the Sufi songs of local folk singers. You can even learn new dance steps while making your ankles move with the energetic Kalbeliya dancers. Experience the beauty of Thar in its originality, and spend some time in the natural beauty of the Thar Desert at our exotic luxury Desert camp Jaisalmer.
Gift yourself a vacation full of luxury and a rich cultural experience with JCR  luxury camps in sam sand dunes Jaisalmer.
Jaisalmer Sand Dunes Camp Booking is Now Easier Than Ever With JCR Desert Safari Camp
Have you made up your mind to enjoy your vacation in the majestic desert Camp of Jaisalmer? Well, why not, the breathtaking sand dunes, charismatic cold nights, melodious musical evenings, and Best desert camp in sam sand dunes, only a no-brainer would want to miss this experience.
And when JCR makes Jaisalmer sand dunes camp booking seamless, the enjoyment gets doubled. With JCR Desert Safari Camp, Book Luxury Desert Camp In Jaisalmer anytime from anywhere without any hassle.
Just go to the JCR Website > check for Jaisalmer desert camp package price > select the best Jaisalmer sand dune package for you > and book directly through our website with just one click!
Website link: jcrdesertsafaricamp.com
OR
You can just book your Jaisalmer Sand Dune Camp Package on call or WhatsApp at +919799735500
Why Choose JCR Desert Camp In Jaisalmer?
Well, as if being the best desert resort in Jaisalmer wasn't enough, here are five reasons why you should go with JCR Desert Safari Camp for your desert camp in Jaisalmer:
Luxury Desert Camp In Sam Sand Dunes
Experience the authentic royal golden camp Jaisalmer
The best Jaisalmer desert camp package price
Renowned Jaisalmer desert resort
Super Deluxe Jaisalmer sand dunes Camp packages
"Stayed for one night here. JCR Desert safari camp was awesome. I have never seen that facility in my life. The service was the best, food was delicious. The staff was warm and Respected the most welcome people in that camp. So, I would like to recommend all u must visit this desert safari camp if you come to Jaisalmer."
"JCR Desert safari camp in Jaisalmer is really the best. The staff was friendly and super helpful. Jeep and camel safari was good with saw sunset on dunes. The food was yummy. The folk dance was the fantastic owner of the camp is friendly and always gives a reply with a smile. Thanks."