Dinner on dunes in Jaisalmer
Relishing the local and international delicacies on the warm, golden dunes of Jaisalmer is an eclectic affair. Cooking with the homegrown organic ingredients, we promise you a night brimming with gastronomical delight and laughter. The Thar Dinner plays homage to the culinary traditions of travellers who crossed the Thar to Jaisalmer. The Thar Dinner represents the end of this journey in a celebratory feast that is served to you in a communal setting.
Dinner on the Sand Dunes Jaisalmer offers a unique experience for those looking to enjoy a good meal outdoors. The sand dunes provide the perfect location to enjoy a dinner under the stars, and there are plenty of options for both food and drink. Whether you're looking for an easy meal or something more challenging, Jaisalmer has something for everyone.
At JCR Desert safari, our designed menus combine a fusion of Indian and European cuisine, with traditional Indian dinners cooked on outdoor clay ovens. The nourishing homegrown ingredients, handpicked from our organic herb and vegetable garden add depth to an entire experience. For the guests looking for authentic camp experience, Live cooking is an enduring feature where they unwind after tracking in the wildlife for the day . We welcome you to share stories over delicious food, surrounded by wild grasses and under the canopy of a starlit sky.
Private Dinner on Dunes In Jaisalmer
This private dinner on the sand dunes in Jaisalmer is a perfect opportunity to enjoy a wonderful meal under the stars. The event checks all the boxes: lovely people, delicious food, and an intimate setting. Whether you're looking for a romantic dinner or something more substantial, this is the perfect spot.
Private dinners on the dunes of Jaisalmer are a popular pastime for locals and tourists alike. The sandy beaches and fresh air make it a perfect spot to enjoy a meal outdoors, while the views of the surrounding hills provide an incomparable perspective. If you're looking to experience some of India's most prestigious towns and villages in one fell swoop, then Jaisalmer is definitely the place for you!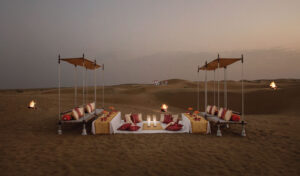 Note : We Give Cab Facility In All Over India, & India Tour Packages Also Give At Best Rates
https://www.jcrcab.com/taxi-in-jodhpur/
Search : Taxi Service In Jodhpur, Cab Service In Jodhpur.
https://www.jcrcab.com/book-taxi-service-in-jaipur-jcrcab/
Search : Taxi Service In Jaipur, Car Hire In Jaipur, Car Rental In Jaipur
https://www.jcrcab.com/taxi-in-jaisalmer/
Search : Taxi Service In Jaisalmer, Car Hire In Jaisalmer
Search : Tempo Traveller In Jodhpur
Tempo Traveller In Jaipur, Tempo Traveller Hire In Jaipur
India Tour Package, Golden Triangle In India, Golden Triangle Tour India, Golden Triangle Of India, Golden Triangle Tour Package.
https://www.jcrcab.com/travel-agency-in-india-travel-companies-in-india/
Travel Agency In India, Travel Companies In India
Indian Tour Operator, Travel Agency In Usa
https://www.jcrcab.com/car-hire-in-jodhpur/
Car Hire In Jodhpur, car Rental In Jodhpur, Self Drive Car In Jodhpur